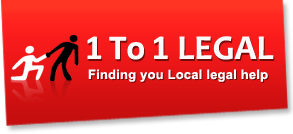 Lawyer Referral Services
Looking for a fresh, new stream of referrals?
Nearly 75%* of the people who come to us looking for legal help, arrive from sources other than search engines. That means social media networks, forums, offline marketing, other websites, and even direct. If you're not in the 1to1Legal network, then you don't have access to those people. (No matter how much you pay Google per click.)
We've been producing law leads since 1999 across a network of more than 100+ websites. Our staff are from backgrounds including immigration, insurance, lawyers, police, and court work oversight. So we don't believe that someone turning the ripe old age of 40 disqualifies them from being able to understand online legal marketing anymore.
Advertising is simple. You need to get your name, and a description of your services in front of potential clients. Getting 1million YouTube views from bored teenagers in France is not "success".
But we're here to save you time and money, not lecture you about "old dogs" whilst jargonizing the new tricks ...
Get guaranteed referrals, and more, from just $10-$20 per month.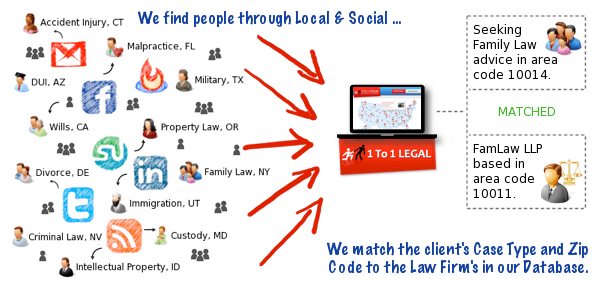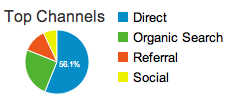 DIY SOCIAL MARKETING? YES ... AND NO:
If you are a small firm, spending 2-3 hours a day managing Twitter, Facebook, YouTube, and LinkedIn accounts as well as updating Blogs, RSS feeds and so on - is probably not going to bring you enough clients to warrant the effort. Similarly, as a large firm, hiring full time Tweeters, Facebookers, Bloggers, etc. could end up costing more money than it generates.
Outsourcing has always been a key way to balance these types of problems - and with the 1to1Legal.com network receiving
nearly 75%
* of it's traffic from sources other than search engines - there aren't many better places to start.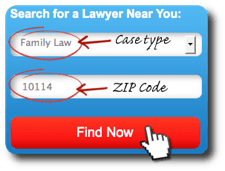 HOW DO YOU BENEFIT FROM THE 1TO1LEGAL REFERRAL SERVICE?
Tens of thousands of visitors come to us from social media networks, forums, offline marketing, other websites, and direct. That's a huge cross-section of online traffic that completely bypasses the almighty Google.
When those visitors reach our website, they enter their zip code and select the type of legal issue they wish to discuss. They are then shown all the law firms in our database nearest them that deal with that type of legal enquiry.
That means your divorce firm isn't answering the phone to DUI callers, and your criminal law firm won't get inundated with commercial property questions.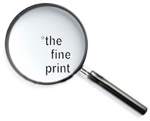 * Snapshot from our network analytics section taken on 18th February 2015.
** The goal of 1 law firm per 100,000 is not always 100% achieved, especially in very rural areas of the country where there may not even be 100,000 people within a reasonable driving distance of the law office in question. Contact us with your zip code and website address to receive more detailed information on being listed in your area.
*** Discounts available for firms located in low populations and firms with more than one office location.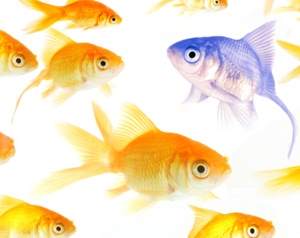 Social Media for Law Firms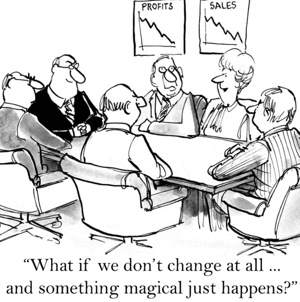 Referral Services for Law Firms
Lawyer Marketing Blog
RW Lynch
: The article details concerns and issues when looking for to purchase a website identify on your legislation agency within the present day. from avoiding scams to buying the proper identify to be used in skilled providers. File a grievance and state t ...

Boston Info Security
: referral lawyer. former consumer. local counsel). In answering to those who pay your wage. present them with detailed metrics on how issues are going throughout all channels. The internet is 20 years previous. The weblog was decided to b ...

Chicago Lawyer Images
: Have meta descriptions that encourage prospects to click on in your hyperlink in search outcomes. Now this CLE audience member truly anticipated them to "do something about it." they nonetheless keep in mind responding that they used to be ...

The Importance Of Legal Marketing For Attorneys
: You need a bundle of supplies geared to this particular client for the specific kind of work or case or matter for which the lawyer is pitching her services. Earlier this yr. a Connecticut lawyer named Zenas Zelotes filed ethics complaints in 47 juri ...

Glendale School District Monitoring Students' Social Media With Geo Listening
: Teicher's profession is now dedicated to helping fellow attorneys survive the follow of law and thrive within the occupation. Mr. Social media websites allow anybody ' or more precisely everybody ' to communicate and share ideas and opinions with a ...

We
don't
believe the mantra
"Any publicity ...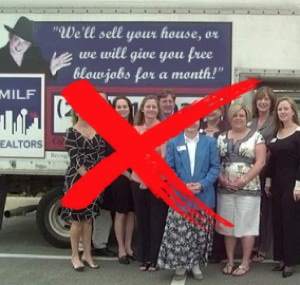 ... is good publicity"
.