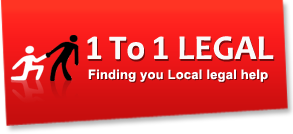 Get Listed. Get Local. Get it Now.
Fed up advertising your Divorce firm only to get DUI phone calls? Fed up paying $5-$50 per visitor in Pay-Per-Click?
30-200 referrals a month (depending on case types and location) from just $10-$15 per month. After our 18+ years of legal service marketing, we've grown a huge social outreach program, a network of micro-sites, an affiliate program, partnerships with thousands of third party websites, and more to drive your costs down.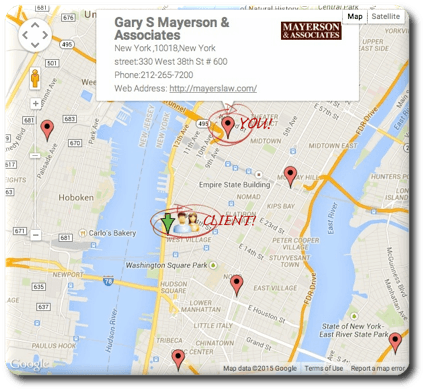 We have been marketing law firms on and off the web
since 1999
. We have purchased radio, magazine, newspaper, pay-per-click, directory, and every other type of advertising you can think of for our law firm customers during that time.
1to1Legal.com was initially created only for our own existing client base of 30-50 law firms as an
extra weapon
in the marketing arsenal we created for them. But, as the internet focus has moved to "LOCAL", so have we. In 2007 we opened our doors to create a wider ranging service for the US population.
WE MATCH THE CLIENT'S LEGAL PROBLEM AND THEIR ZIP CODE - TO THE LAW FIRMS IN OUR DATABASE.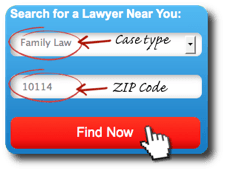 HOW DO YOU GET TARGETED CLIENTS?
Visitors to our site enter in their ZIP code and the type of legal assistance they require, and our map shows the law firms nearest to them that deal with that type of legal problem. That not only saves the searcher time, it
stops you wasting time answering enquiries you can't help with
.
Also: to ensure that the law firms that list with our Local Search get their listing in front of a fair amount of people, we cap areas based on population. On average,
1 law firm per 100,000 population
. Therefore, a city of 1million people would display only 10 law firms providing any particular type of legal service.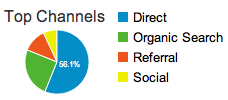 BUT EVEN THOSE FEATURES ARE NOT OUR FAVOURITE PART!
As you can see from this recent* Analytics Snapshot,
nearly 75%
of the traffic to the 1to1Legal network comes from sources other than search engines. That means,
we are not reliant on Yahoo, Bing or even the almighty Google for our visitors
.
What does that mean for our listed law firms?
Simple. It means that any
Penguins
,
Pandas
or other Google Animals that come along, won't stop us from providing the service you've paid for. Many directories rely almost solely on the traffic Google provides them. Of course, if they lose their rankings the day after you purchase advertising with them ... you're never going to get your money's worth.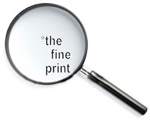 * Snapshot from our network analytics section taken on 18th February 2015.
** The goal of 1 law firm per 100,000 is not always 100% achieved, especially in very rural areas of the country where there may not even be 100,000 people within a reasonable driving distance of the law office in question. Contact us with your zip code and website address to receive more detailed information on being listed in your area.
*** Discounts available for firms located in low populations and firms with more than one office location.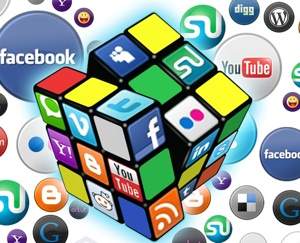 Social Media for Law Firms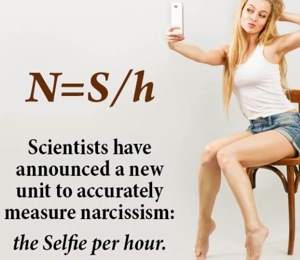 Referral Services for Law Firms
Lawyer Marketing Blog
Bankruptcy Lawyer Promoting In The Digital Age
: Their On-line Marketing campaigns make the most of trade leading instruments for legal professionals who want to generate a consistent flow of recent results in their regulation firm. Busy attorneys can both start from scratch and spend years learnin ...

How To Locate A Great Law Firm
: You're not alone in case you've understood a traditional legal career path is just not for you personally. All Contact Law firms additionally possess a service-level guarantee and several have Law Society accreditations in their own area. They always ...

Utilizing Trial Consultants With End Clients
: Creating in-depth knowledge of industry group and acting as firm resource concerning. lawyer experience. product experience. firm experience. trade/commerce group organizations. legal. industry and enterprise tendencies. business-specific advertising ...

6 Suggestions For Becoming A Startup Company Lawyer
: In the event you run a legislation firm and are involved about your lack of latest purchasers and circumstances. you're probably not doing sufficient to properly market your business. One can hardly search for an "skilled" employee. let alone one wit ...

Pole Use Again As MLB Probes
: Firms can easily search for people or the companies that fulfill their unique needs regarding expertise. experience or location. market with its directory last decade. it had credibility out of the box. According to interviews with attorneysCustomers ...

We
don't
believe the mantra
"Any publicity ...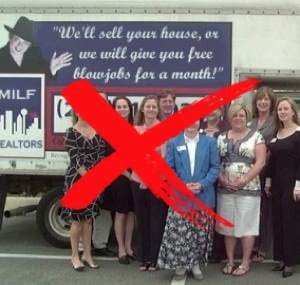 ... is good publicity"
.