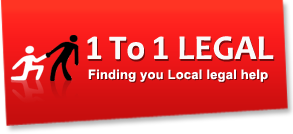 Lawyer & Attorney Directory.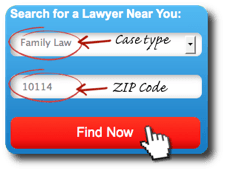 INCLUSION:
Our referral network database is 100% unique. The result of our 17+ years in legal services marketing. A complementary blend of the normal directory format, a map-display search function, with social outreach channels, and a focus on ROI ... i.e. producing runable cases.
We achieve this by providing our site visitors with a custom search box, along side the standard directory layout. They enter their zip code, but crucially - they also enter the case type they are looking for help with.
That means your divorce firm isn't answering the phone to injured pedestrians, and your criminal law firm won't get inundated with bankruptcy queries.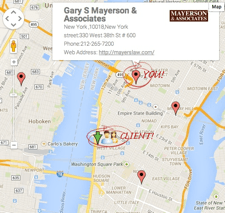 GET LOCAL:
Fed up advertising your Divorce firm only to get phone calls from people requiring DUI help? Fed up paying for directory listings only to be cold-called by marketing firms?
We have been marketing law firms on and off the web
since 1999
. 1to1Legal.com was initially created only for our own existing client base of 30-50 law firms as an
extra weapon
in the marketing arsenal we created for them. But, as the internet focus has moved to "LOCAL", so have we.
We match the client's legal problem and their area code, to the law firms in our database.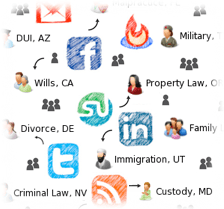 GET SOCIAL:
Tens of thousands of visitors come to us from social media networks, forums, affiliate programs, offline marketing, other websites, and direct. That's a huge cross-section of online traffic that completely bypasses the almighty Google.
Would you like to be 'Google-Proof'?
In fact,
nearly 75%
* of the visitors to our website arrive here via sources OTHER than Google. If Google were to go completely crazy tomorrow and stop showing organic search results altogether ... we'd still be getting visitors. But more importantly - so would all the law firms in our database.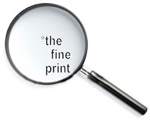 * Snapshot from our network analytics section taken on 18th February 2015.
** The goal of 1 law firm per 100,000 is not always 100% achieved, especially in very rural areas of the country where there may not even be 100,000 people within a reasonable driving distance of the law office in question. Contact us with your zip code and website address to receive more detailed information on being listed in your area.
*** Discounts available for firms located in low populations and firms with more than one office location.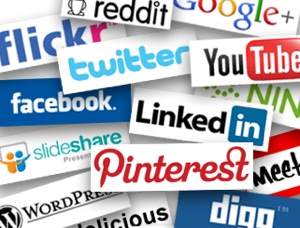 Social Media for Law Firms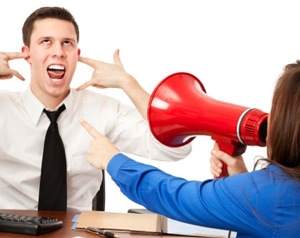 Referral Services for Law Firms
Lawyer Marketing Blog
How Not To Use A Lawyer A Private Case Examine (Plus
: Enter your e-mail handle to subscribe to this blog and receive notifications of new posts by e mail. However. hey. if they do an excellent job advertising and marketing it...that is not their problem. . Well. initially each weblog is differen ...

Dallas Trademark Legal professional
: Listed below are four attention-grabbing perspectives on how to market a legal practice. Apparently. when it came to the difficulty of whether an ex parte communication occurred when passive notifications are sent by some social media sit ...

They Specialize In Boston Property Law
: You desire -- the more efficient your advertising and company development efforts will undoubtedly be the more clearly and narrowly you define your intended audience -- the types of clients. It seems that while most law firms so are beginning to expa ...

How Law Firm Managers Should Use LinkedIn To Find Occupations
: However you choose to contact us. their experienced. friendly staff will discuss your legal dilemma with you as well as find you the right solicitor. They work with a large number of solicitors throughout the UK whoHelp companies and people with any ...

Locate A Toronto Immigration Law Firm
: They want to find law firms using variant phrases including legal firms and law offices - 5.79M searches. They are using terms such as directory. list and find - 424K search. . Kevin ultimately chose to approach just over 200 firms. ...

We
don't
believe the mantra
"Any publicity ...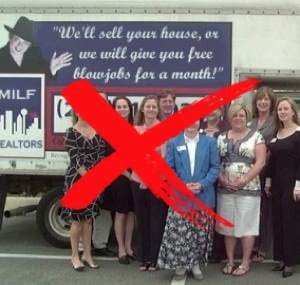 ... is good publicity"
.