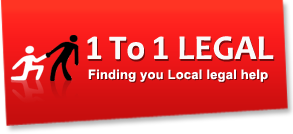 Lawyer Referral Services

Looking for a fresh, new stream of referrals? Nearly 75%* of the people who come through our network arrive from sources other than search engines. That means social media networks, forums, offline marketing, adverts, subscribers, partner websites, and even direct.
Search engines still account for 61% of visitors to websites globally
(source conductor.com)
. Google has a 67% market share of that
(source netmarketshare.com)
. Which means for every 100 visitors to an average website, 41 of them have come through Google. That's impressive, but it means a wide variety and huge number of people are finding the services they need using other means.

We've been producing law leads since 1999. Our staff are from backgrounds including immigration, insurance, lawyers, marketing, police, court work, journalism, and court work oversight. They cover a range of genders, ages, and origins too. That's our edge. No single person acting as though they know everything!
The main bonus? What we offer will not conflict or make redundant any other marketing plans you currently have or plan on having in the future. Our service compliments any existing setup you have whether PPC, SEO, PR, or any other acronym you're using.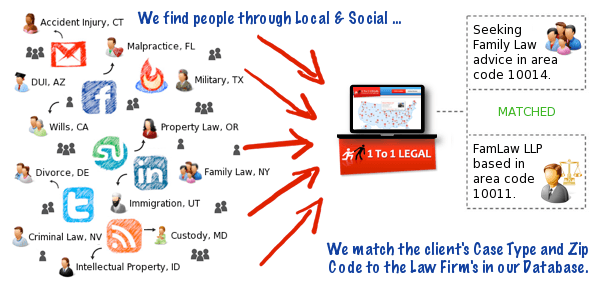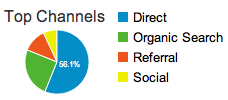 DIY SOCIAL MARKETING? YES ... AND NO:
If you are a small firm, spending 2-3 hours a day managing Twitter, Facebook, YouTube, and LinkedIn accounts as well as updating Blogs, RSS feeds and so on - is probably not going to bring you enough clients to warrant the effort. Similarly, as a large firm, hiring full time Tweeters, Facebookers, Bloggers, etc. could end up costing more money than it generates.
Outsourcing has always been a key way to balance these types of problems - and with the 1to1Legal.com network receiving
nearly 75%
* of it's traffic from sources other than search engines - there aren't many better places to start.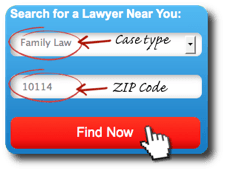 HOW DO YOU BENEFIT FROM THE 1TO1LEGAL REFERRAL SERVICE?
Tens of thousands of visitors come to us from social media networks, forums, offline marketing, other websites, and direct. That's a huge cross-section of online traffic that completely bypasses the almighty Google.
When those visitors reach our website, they enter their zip code and select the type of legal issue they wish to discuss. They are then shown all the law firms in our database nearest them that deal with that type of legal enquiry.
Our referral network is Double Targeted. We ask the people coming through us to at least enter their case type and area code. That way our Divorce firms don't end up getting calls from people with DUI problems, and our Aberdeen, Washington lawyers don't get calls from people in Aberdeen, Maryland.
* Snapshot from our network analytics section taken on 18th February 2016.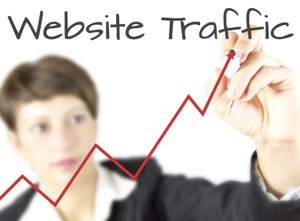 Social Media for Law Firms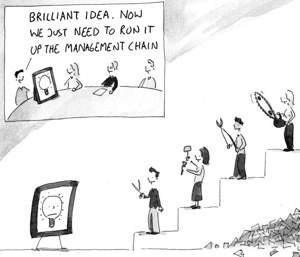 Referral Services for Law Firms
Lawyer Marketing Blog
RW Lynch
: Keep a working listing of your referral sources and thank them by internet hosting dinners or sending vacation items. . Creating Sales content material requires a unique mindset and method than creating Advertising content material. as a res ...

Boston Info Security
: Familiarize your self with the matter before taking any media calls. It's essential to be capable to change the digital face of the firm on a moment's discover - removing attorneys. including new locations. changing biography images as we ...

Chicago Lawyer Images
: Like any enterprise improvement effort. execution is key. Rhode Island elder lawyer Mark Heffner shared what he learned from professionals in other fields when he co-introduced on a panel dialogue about end-of-life selections . and in add ...

The Importance Of Legal Marketing For Attorneys
: Read the piece and see if you happen to can see the place good consumer service for a lawyer overlaps with running a profitable restaurant. lodge or comparable establishment. In most of these areas. Mr. Whereas summer time is enjoyable. t ...

Glendale School District Monitoring Students' Social Media With Geo Listening
: A working towards attorney for practically twenty years. Mr. Teicher's profession is now dedicated to helping fellow attorneys survive the follow of law and thrive within the occupation. Social media websites allow anybody ' or more precisely everybo ...

We
don't
believe the mantra
"Any publicity ...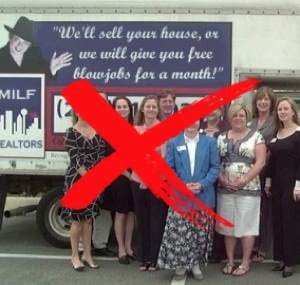 ... is good publicity"
.