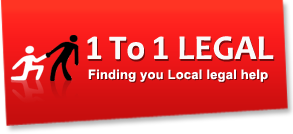 Find a Local Lawyer.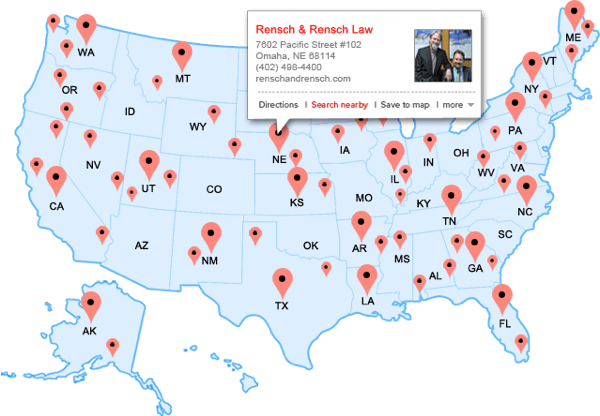 Why Use 1to1Legal.com?
The stories that hit the news are often the big multi-million dollar cases against the large corporations of America. The class action lawsuits. The nationwide danger of a popular product or drug.

In reality, the majority of people looking for legal representation are seeking help with a local matter. And whilst that big New York law firm may be dying to take on your MacDonald's permanent disability accident case, they may not be so willing to help you out over a dispute with your local dry cleaner.

1to1Legal.com is a search function that lets you know exactly who your local lawyers are. They are the firms that will know the local services, the local perceptions, the local area, the local history, the local news and the local law personnel. It will also save you time by only showing you the law firms nearby that deal with your type of case. That will erase the need for those first ten phone calls resulting in "sorry, we don't deal with that".
Advertising Your Law Firm on 1to1Legal
Just over a decade ago, we all knew the playing field. A Yellow Pages ad, business cards, and maybe a TV ad if you had the budget. Most of the time, you got clients through word-of-mouth. Of course, these days 'word-of-mouth' has become 'tap-of-the-fingers'. Also, with
Local Search
and
Social Media
increasingly surpassing the simple SEO needs of any online
law firm marketing plan
- it's nice to know that at least one old-fashioned business strategy can still be relied upon ....
'outsourcing'!
You don't need to Tweet photos of your boss eating lunch in the conference room or endlessly write LOL to everyone's Facebook posts to get traffic from Social Media. You don't need to pay an SEO $$$s a month for Local Search either. 1to1Legal can
refer
a huge cross-section of potential clients your way.
Find out more
. >>
Search for a Lawyer near you:
Latest Legal News
Lawyer Marketing Blog
How Not To Use A Lawyer A Private Case Examine (Plus
: This is smart; his business is based on promoting blogs ' but it's extra time than most practising lawyers they know have to present). While you begin with a great authorized blogs. add a well-conceived social media advertising and marketi ...

The Ethics Of Social Media Marketing
: What it really takes to construct a 7-figure regulation firm ' no hype and no b.s. . Legal professionals and law firms host. sponsor. attend. and converse at occasions. Chasing an uncovered area of interest in the law is not only w ...

Boston Information Safety
: There is a good likelihood that your next shopper isn't simply searching for a lawyer from their desktop. Arizona prison protection lawyer Lawrence Koplow blogged about car searches with no warrant . and discussed a current case on whethe ...

Los Angeles Parenting Teens
: This allows prospective shoppers to rapidly establish local corporations that supply the desired authorized services. The benefit to the lawyer is that the posts get written in a well timed method at a reasonable price. John decides to rent you as ...

Business Growth Coaching For Legal professionals
: These are all people that can send you business so long as you inform them that you prefer to them to and what kind of work to ship. In support of his assertion. Kevin mentions that the proportion of viewers coming to their weblogGoogle h ...