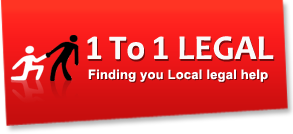 The Walton Law Firm PA Info:


The Walton Law Firm - Miami
The Walton Law Firm welcomes the opportunity to talk with you whether a bankruptcy, probate, trusts, wills, real estate, business organization/contracts, or litigation matter. Their goal is to provide the highest quality legal services in a timely fashion through the effort and experience of their qualified professionals.

Penthouse 5, 848 Brickell Avenue, Miami, Florida, 33131

https://www.waltonlawfirm.com

ken@waltonlawfirm.com

(800) 673-8691

The Walton Law Firm in Miami, Florida: Review
In the olden days (okay, we mean the 1990s but to some that feels like ancient history) people would go and see a lawyer if they had a legal problem. Typically everyone would know where the local lawyer offices were. Each law office would have several lawyers with each either handling a wide range of cases in a jack-of-all-trades manner, or individuals within the firm would specialize in a particular area of law.

However, since the development of the internet where any startup business can reach their own audience outside of the big marketing budget and local establishment that would have been needed back in the 90s - lots of firms are starting to specialize in very specific areas of laws. That's great for potential clients and gives much more work flexibility to many attorneys who can pretty much work from a home office these days and still provide top class services. Covid caused a huge upsurge in such setups.


"The Walton Law Firm provides legal services in the areas of probate, trusts, wills, real estate, business organization and contracts, and commercial litigation."
Today's article focuses on Walton Law based in Miami, Florida because they seem to embrace this great opportunity for legal professionals to really remain focused on specific matters and therefore have
a much better chance of success
for their clients. The firm essentially works in two 'areas' of law. Estate Planning and Commercial matters. But they highlight having expertise in contracts and commercial litigation.

That's not a random selection because unfortunately many people who didn't get legal advice when drawing up a contract end up requiring a lawyer to litigate the results. That's often considerably more expensive too. The internet which we praised before has also provided plenty of 'legal document template' sellers online. We're going to give some very basic but very common examples of problems that can arise if you don't tailor a contract properly to your circumstances.


"Contracts are promises that the law will enforce. With few exceptions, all contracts regarding Land and Real Estate must be in writing."
A
breach of contract
dispute is one such as between a firm (X) and a security company (Y) they may have hired. If something happens X may sue Y for failing to provide adequate security as agreed upon in their contract. X would argue that Y breached its duty to provide security if, as a result, X suffered damages. The importance of
clearly defining the terms
and obligations of the security company towards the firm contracting it would be paramount in such a case as 'provide security' is not a service that defines itself.
A partnership dispute example would be where X and Y were partners in a real estate development project, but they had disagreements over the management of the project and the allocation of profits. The case could go to court, and the judge may ultimately dissolve the partnership and order the sale of the property to resolve the dispute. This other very common case demonstrates the importance of having a
clear and comprehensive
partnership agreement in place.
"Mr Walton obtained a Bachelors of Science in Business Administration from the University of Illinois-Chicago in 1995,"
Non-compete agreements where X sues Y could be for something such as Y violating a non-compete agreement that prohibited X from soliciting X's customers or employees to move to Y's new company. The court could issue a temporary injunction in favor of X, but the importance of even considering the need for a non-compete agreement may not occur to many people.
Florida has passed a law banning
non-compete agreements for most workers, except in certain limited circumstances. But that only highlights the need for legal advice to make sure you do whatever is possible to protect your business and create contracts that can actually be binding and pursued through the courts.
As already mentioned attorney Kenneth Walton covers other types of cases as well. However, once you've decided you need the help of an attorney - how do you know which one is right for you?
The first place
people usually turn are the public review boards such as Google, Facebook, Yelp, etc. Some firms provide customer testimonials on their website, but according to our poll last year hardly anyone trusts such company-provided reviews. We can understand that.
"Mr. Walton knows the law and deeply cares about his clients."
"incredibly responsive and professional, even for small cases like mine"
"Professionalism, Responsiveness, Value"
Those are a few snippets from the comments left on the independent boards.
They are all very positive.
But there are other resources on the web such as MartinDale and GlassDoor which provide comments from other businesses in the industry and prior employees of various firms as well. This can give a little extra insight into the company's reputation amongst its peers and workers. So what types of things are they saying?
"a seasoned, experienced, thorough and well rounded attorney"
"a very capable talented attorney"
"a superb attorney"
A quick note on navigation as although the firm's official site is www.wjblegal.com we are linking to the web address www.waltonlawfirm.com above. This is not an error, this is just for tracking purposes. If you click the link above you will be redirected to the main site.
The site is https secure
for submitting your personal details via the contact form, but always check your browser is secure before doing so. We originally thought the WJB referred to their slogan 'Where Justice Begins' but it looks as though the practice may have had a previous setup with attorneys named 'Walton Jones and Browne'?
The rest of the firm's overall branding matches so it should be easy to find them on the web. Again though, please make sure you're on the correct site and never discuss payment details via email. There are
so many types of scams
going about and always fraudsters thinking up more.
"Active in the community, Mr. Walton provides basic workshops and seminars to teach first time and other home buyers."
General Notes: We don't look into any firm's recruitment program so can't comment on job vacancies or about working there. Changes may have occured since this article was written so please visit the firm's
www.waltonlawfirm.com
website for the most up to date opening hours, office address, phone number, email address, and other information.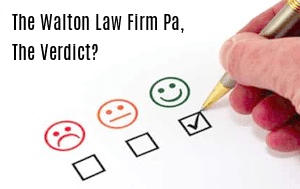 This The Walton Law Firm PA
article is rated
4.8 / 5 based on 22 reviews. †
Found this article helpful? Rate it:

---
Other Law Firms with Reviews like The Walton Law Firm PA:
» WDK Law - However it is still quite common for a 'free consultation' at some firms to actually just be an unqualified member of staff asking you some routine questions and avoiding providing any actual advice or information about your case ...
» Lippitt O'Keefe, PLLC - Additionally ...
» Cohen & Winters, PLLC - It's clear to us that a defence attorney who has fought at the public defender level will have much more insight into people ...
» Brian D. Perskin & Associates P.C - In all honesty there is a lot to like ...
» J.P. Meyer Business Mediation & Arbitration - Stating your firm is the one of the 'best' ...
» Campbell & Associates Law Firm, P.C. - They are very positive /b but we definitely recommend reading full comments whenever looking up a law firm to get an idea of any positive or negative themes rather than just star ratings ...
» Webb Law Group, APC - A quick note on navigation ...
» Fontana & Napolitano LLP - The website serves as a platform for the firm to provide general information about their legal services to potential clients ...
» Law Offices of David J. Oliveira, Esq. - Even just little extra things like knowing David Oliveira is a href="https ...
» Sullenberger Roskamp PLLC - Sullenberger Roskamp PLLC is a law firm based in Tampa ...
» The Law Office of Carmen L Durso - Burns a href="casetext ...
» Garton & Vogt, P.C. - We always recommend reading the actual comments left by people rather than simply flicking through law firm's star ratings ...
» Principal Law Group, LLP - Quite often an attorney for a mass tort claim will never meet with their client face to face and they will not have to appear in court ...




Search for Legal Help by State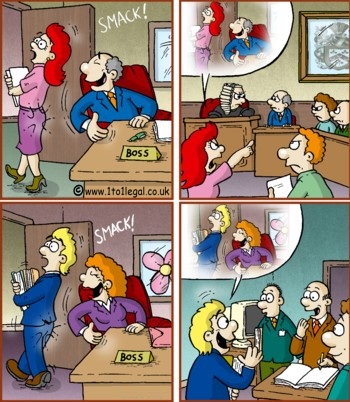 Lawyer Marketing Blog
Rocklin Roseville Enterprise Lawyer Tips For Creating A Social Media Policy At Your Enterprise
: Rule 7.1. A lawyer shall not make a false or deceptive communication concerning the lawyer or the lawyer's services. Due to this fact. the remark says. legal professionals must use warning when speaking with a shopper ...

Labor Board Lawyer Broke Ethics Guidelines
: An legal professional should keep away from sending invites on LinkedIn that appear to solicit legal business from new purchasers. they follow their favourite report labels. artists. artist management firms. music publications. ...

Leader Of Assault On Obama Global Warming Strategy? The Company of Rudy Giuliani
: June. a 36 year old graduate of a fourth tier law school and recent mum. had been out and was seeking a part time place in the Southwest as an attorney. Offer broad-based legal services through the country from numerous ...

Out With The Old, In With All The New Changing Law Firm Models
: blog posts and promotions). it's recommended to share outstanding content from outside sources as well. . Now. the Internet makes it easy for each and every business to become less invisible in an area geographical sense. n ...

Judge In Russia Hacking Case Boots Law Firm
: While it's often difficult to determine this more than a couple of years in advance of starting your practical training and before you have even completed the LPC. you should attempt to make as informed a choice as you can. Lexis ...